Fin Tube Cleaning
---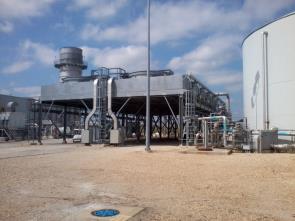 Many industrial plants use air-cooled condensers for combined cycle operations and other critical functions. With the essential tasks this equipment needs to handle on a daily basis, proper maintenance is crucial to keep it running effectively.
Over time, air-cooled condensers and their components are subject to debris buildup, so they require effective periodic cleaning to maintain their function. Fin tubes, in particular, can quickly get dirty, compromising the overall functionality of the system. To keep them operating correctly, you need the right cleaning services to preserve their integrity.
Why Get Fin Tube Cleaning?
Air-cooled condenser fouling is a significant obstacle to effective operations in industrial facilities. Over time, the condenser tubes' fin area accumulates environmental debris that can include pollution, bird nests, road dust, leaves and even dead animals. Materials like these can significantly reduce the unit's efficiency and lead to a loss of generating capacity.
Because fin tubes see exposure to many elements during everyday operation, it's essential to protect and maintain them. Scheduling regular fin tube cleaning will keep these critical components delivering optimal performance and provide several advantages for your operations, including:
Long-term equipment value: Keeping your equipment in optimal condition with the right cleaning services will boost its long-term value and life expectancy by maintaining its functional and structural integrity.
Optimized performance: With well-maintained components, your facility's air-cooled condenser can consistently reach its generating capacity and maintain optimal productivity levels.
Improved work environment: Equipment in optimal condition will allow for enhanced safety and efficiency in the work environment for all employees.
Increased revenue: Cleaning services to optimize fin tube functionality will pay for themselves with the productivity gains they yield. Your equipment will deliver higher efficiency and bring in more revenue from your operations.
Fin Tube Dry Ice Blasting
Our air-cooled condenser cleaning process involves dry ice blasting to clean the components thoroughly. We begin by pelletizing the dry ice we've manufactured on-site and then push the pellets through a blasting nozzle using compressed air. The dry ice pellets quickly and efficiently remove dirt and debris from the surface without causing any abrasion or harm to the equipment.
EAI brings years of experience when it comes to CO2 blasting techniques and fin tube cleaning. We're able to use our premium equipment and process to protect your equipment's surface and delicate components throughout the procedure. You'll find that this process yields significant benefits for your operations and ensures consistent productivity from your air-cooled condenser.

Work With EAI to Maintain Your Air-Cooled Condenser
Since 1989, EAI has consistently delivered excellent cleaning services, providing long-lasting cleaning solutions for clients. As the leaders who introduced dry ice blasting techniques to the industry, we have the expertise to help you find the best cleaning solutions for your applications.
Our goal is to help your facility increase performance, extend equipment lifetimes and save you money on operational costs. We provide everything necessary to complete the job, from preliminary inspections to dry ice production on-site.
To get more information on our cleaning solutions for your facility, get in touch with us today.