HRSG Cleaning Services
---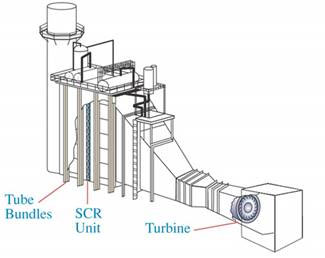 Your facility's Heat Recovery Steam Generator (HRSG) needs to function correctly to optimize plant operations. Over time, regular usage can cause fouling that eventually plugs the system, decreasing output because of its impact on critical factors like backpressure, steam production and heat transfer.
When this occurs, you need a thorough, expert cleaning to get your HRSG back on track and regain operational efficiency. Environmental Alternatives, Inc. (EAI) offers comprehensive solutions to prevent downtime, increase efficiency, and sustain and prolong your equipment's service life. If you're looking for a solution for your operations to increase HRSG productivity, partner with us to get the cleaning services you need.
How HRSG Components Fouling Affects Performance
Throughout daily operations, waste and debris gradually build up as byproducts of normal processes. Over time, this buildup can result in heat-rate degradation, loss of steam production, corrosion and decreased heat transfer efficiency. These issues mean a loss of generating capacity and, ultimately, reduced revenue.
The best way to sustain your equipment's value and productive capability is to perform the proper maintenance. HRSG cleaning services are a long-term investment in your operational output and the life of your equipment. Our experienced professionals use innovative technologies to provide environmentally friendly and highly effective cleaning solutions.
HRSG Cleaning Services Deliver a Return on Investment
When you use EAI for cleaning services for your facility, you make an investment that will yield sizable returns for your operations. Some of the ways you'll experience the advantages of proper HRSG cleaning include:
Increased revenue: Cleaning services can significantly improve HRSG generating capacity. Even a 0.5-inch reduction in backpressure is sizable enough to yield a payback of $50,000 to $60,000.
Minimized expenses: With well-maintained equipment, you'll prevent the buildup of corrosive deposits that could limit your assets' life expectancy — saving yourself a significant amount of money on future repair or replacement needs.
Enhanced performance: Restore HRSG performance with trusted cleaning services to reduce backpressure and increase heat transfer.
Trusted and Turnkey HRSG Cleaning Solutions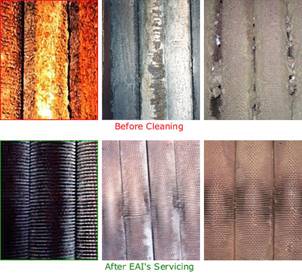 Clients have called upon EAI to solve all of these issues with full turn-key cleaning systems and qualified personnel to clean fouling, sulfur deposits, ammonia salts, corrosion, rust, insulation and other contaminants from the gas side of the fin tube surfaces within the HRSG.
As part of the annual maintenance programs at many plant sites, clients have retained EAI to perform annual cleanings, keeping units operating at peak efficiency.
All the major OEMs recommend EAI as the company of choice to clean their plant equipment and our CO2 process is recognized as a "best practice" for cleaning HRSGs.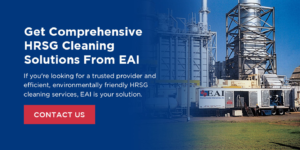 Get Comprehensive HRSG Cleaning Solutions From EAI
When you work with EAI, you can be confident that you're getting exceptional solutions that will improve your equipment's production output and capacity. We introduced the innovative CO2 cleaning process to the energy sector in 1989 and major OEMs recommend our process as best practice.
To stay up to date on the industry's latest developments, we maintain memberships in several HRSG user groups. We also closely collaborate with all the HRSG OEMs to ensure we're helping maintain optimal performance for our clients' equipment. As a company with decades of experience in the field, we've serviced leading HRSG brands including Aalborg, CMI, Kawasaki, Nooter/Eriksen, Deltak, Alstom, Vogt and NEM.
If you're looking for a trusted provider to perform top notch HRSG cleaning services, EAI is your solution. Reach out to us today to learn more about what we have to offer.