Concrete Shaving
---
Rapid, cost-effective surface removal solution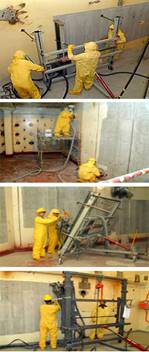 EAI's innovative Concrete Shaving technology enables complete and rapid removal of contamination from building surfaces, while minimizing airborne hazards. Our technique removes paint or concrete surface layers precisely and efficiently while producing up to 50% less waste than other technologies. This makes Concrete Shaving an attractive alternative to traditional methods such as pneumatic scabbling or abrasive media blasting.
Overview:
EAI employs a patented Concrete Shaving system based on a drum-mounted, diamond-impregnated blade that precisely shaves from 1mm to 20mm from the concrete surface. The system is mounted in a variety of automated, track-mounted devices to ensure effective shaving of various floor, wall, or ceiling surfaces. A HEPA (High Efficiency Particulate Air) vacuum recovery system ensures dust-free operation.
Benefits:
Reduced waste – EAI's Concrete Shaving approach does not create additional waste, as is the case with abrasive media techniques. The only waste generated, in addition to the blades themselves, is primary waste in the form of concrete dust and/or paint.
Reduced risk – By virtually eliminating airborne dust, coupled with its remote operated and ergonomic design, EAI's Concrete Shaving technology dramatically reduces risks to workers on-site.
Smoother surface – Our Concrete Shaving process leaves a smooth, dust-free surface cut to a precisely specified depth, allowing more reliable, accurate surveys.
Rapid decontamination – EAI crews can have the Concrete Shaving equipment up and operational in as little as one shift. The equipment's high operational efficiency, together with reduction of waste, helps accelerate project completion.
Get Trusted Concrete Shaving Services From EAI
When you work with EAI, you'll get the services you need to ensure a clean and productive work environment. Boost your efficiency and protect employees while ensuring your equipment has optimized performance.
To learn more about concrete shaving or any other service, fill out our online contact form.